Jal Mahal Jaipur the Water Palace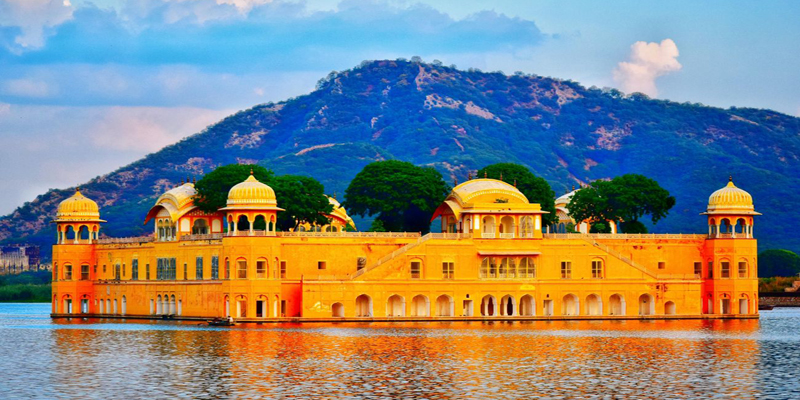 In the middle of Man Sagar Lake, Jal Mahal was renovated in 18th century by Maharaja Jai Singh II of Amber. It is one of the famous tourist spots among travellers and is surrounded around Nahargarh hills. It is known for its beauty and architecture.
Information to Know:
For Indians - INR10
For Foreigners - INR50
For Indians - INR10, For Foreigners – INR30
Opens all days of the week from 6:00am to 6:00pm
History:
This palace was built in 1799 by Maharaja Sawai Pratap Singh. It was constructed by him to serve as a hunting lodge during his duck shooting trips.
Architecture:
This palace is constructed with red sandstone and it is a five storied building. The amazing view of this palace is when lake is full, as at that time the four floors remain underwater and the top floor is exposed. There was a garden which existed on the terrace had been lost. But, based on a similar roof garden of the Amer Palace there is a new garden which was created. Inside this palace, there is a temporal exhibition reflecting the art and craft of Rajasthan.
What to see in Jal Mahal:
Chameli Bagh
Boating
Sightseeing
Shopping from local shopkeepers
How to reach:
Jaipurbus stand is the nearest bus terminal and it takes only 10 minutes to reach there.
Narnaul Railway Station is the railway station nearby this palace. It is at a distance of 3.5km.
Jaipur International Airportis the nearest airport to this location.
Places to visit near Jal Mahal:
Jantar Mantar – It was built in 1734 and is the largest stone sundial of the world. There is a collection of 19 architectural astronomical instruments.
Chokhi Dhani Village – For experiencing Rajasthani culture it is the best place to visit. This place offers delicious food, paintings and arts of Rajasthan.
Kanak Vrindavan Mahal – It is a garden located at the bottom of Nahargarh Hill. It is a beautiful place with pools and fountains all over.
Amer Fort – Located at the top of Cheel ka tila (Hill of Eagles), this fort is known for its artistic Hindu elements. The light show is one thing that one can't afford to miss.