Nainital
Nainital stands always on the top in the list of beautiful hill stations. It is located 2,084 meters above the sea level. It's set around Nainital Lake, a popular boating site. As per the history, the people believe that the left eye (Nain) of Sati fell here and the lake is formed in the emerald eye
Hotels In Nainital
Sattal Rd, near Naldamyanti Tal, Bhimtal, Uttarakhand 263136
1 Room/ Night
₹4320
for

2 guests

,

1night
Book Now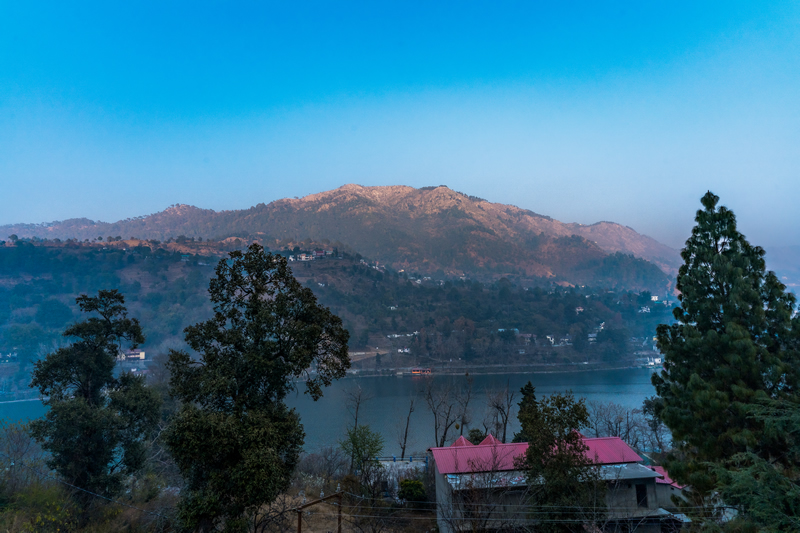 62, June Estate Rd, Bhimtal, Uttarakhand 263136
1 Room/ Night
₹3840
for

2 guests

,

1night
Book Now
Best place to visit in Nainital and things to do
The views from this hill station are the one that can't be forgotten. In summers one can't miss the sight of bloomed flowers and lush green trees. However, in winters the mountains draped in snow leave quite a mark on the viewers. This place is house for number of lakes and has many adventurous activities to offer.
When to visit:
Apart from the beauty of this place, it is also popular among travellers because it is a year-round destination. However, the best time to visit this hill station is from March to June. During this time the weather remains pleasant and perfect for sightseeing.
What to do in Nainital:
· Boating
· Trekking
· Rock Climbing
· Sightseeing
· Shopping
How to reach:
Nainital bus stand is the nearest bus stand. There are number of buses available to reach there.
Kathgodam railway station is the nearest railway station to reach to this place. It is 34kms away from the location. From there one is suggested to take taxis or cabs.
Pantnagar is the nearest airport to this location.It is 70Km away from Nainital.
Places to visit near Nainital:
Naina Devi Temple – This temple is located in Nainital and is a famous Hindu pilgrimage site, which is dedicated to Maa Naina Devi or Mata Sati. As per ancient believes, this temple is built on the same spot where Goddess Sati's eyes fell. Inside this temple, there are three statues. It opens from 6:00 AM to 10:00 PM.
Naini Lake -This beautiful lake is situated in the centre of Nainital. This lake is surrounded by seven different peaks namely Ayarpata, Deopata, Handi Bandi, Cheena Peak, Alma, Laria Kanta and Sher Ka Danda. The lake is in crescent or kidney shape and is famous for boating and picnic.
Eco Cave Gardens -Entry Fee: Adults: INR 20 Children: INR 10 Camera Fee: INR 25
Timings: 10:00 AM - 4:30 PM
This place consists six small caves in the form of animals. It is famous for its interconnected rocky caves, hanging gardens and the musical fountain. The purpose of creating it in this way is to give tourists a glimpse of the natural habitat of the Himalayan Wildlife. There are Bat cave, Tiger Cave, Apes Cave,Panther Cave and Flying Fox Cave. These caves are lighten by petroleum lamps.
Nainital Roapway -Entry Fee: Adults- INR 150 Kids (3 to 12 years) - INR 100
Timings: 10:00 AM - 4:00 PM
One of the main attractions of this hill station is Cable Car Ride. This ropeway connects Mallital to the Snow viewpoint. The view of the landscapes from the height of 2270 metres is magnificent and breathtaking.
Tiffin Top -
Timings: 8:00 AM - 11:00 PM
Also named as Dorothy's Seat, this place is a very famous tourist attraction in Nainital. It got its name because people started to have lunch on the top of the hill. For photographers this is the perfect spot. There are adventure activities such as rappelling and rock climbing which are conducted here. View of Naini Lake and Kumaon hills are magnificent from there.
Peora –This place is one of a kind beauty. It is situated at an elevation of 6000 feet and the scenic view of the mountains is magnificent. This location is best to enjoy some peaceful moments with your family. One can experience the simple lifestyle of local people living here. For the photographers, it is a perfect spot to showcase their skills.
Pangot – This village is located just 15 kilometres away from Nainital. It is situated at the height of 6,300 feet above the sea level. It is house for various species of birds like Himalayan Griffon, Spotted & Slaty-backed Forktail, Woodpecker and Khalij pheasant. The journey to this place is really beautiful as one passes through the forested areas of Chenna Peak Range via Snow View Point.
China Peak –This is the highest peak of Nainital. Since it is situated at a height of 2615 metres, the peak remains covered with snow throughout the year. This peak is very popular especially among hikers and trekkers. Those who don't want to trek, can take a pony-ride to reach to the point. The view of the landscapes from that place is really beautiful and eye catching. For the photographers, it offers a perfect sight to shoot.
Jeolikote –Jeolikot is a hill station located on the Nainital-Haldwani highway. This place is full of butterflies and lives. This place is famous for its lush greenery, beauty andviews of the Himalayas. This place is also known for its calmness and renowned philosophers Sri Aurobindo and Swami Vivekanand used to meditate here.
Khurpa Tal –This Lake is situated at a distance of 12 kms from Nainital.It has crystal clear water and is an ideal place for those who are looking for fishing activity. For photographers the view of this lake is mesmerisingduring sunrise as the lake looks like a diamond when the rays of the sun fall on it.